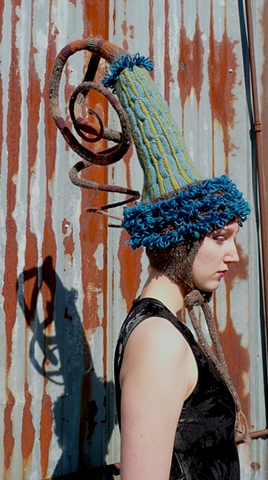 Kelly Fleek works in sculpture, painting, textiles, installation, photography, and music. Her work is the sum of a love affair with the commonality in the smallest and largest elements of life. Her wearable textiles ask individuals to touch them, to become a sculpture. From her series 'Nature Drag: wearing nature, being nature' or her latest series, 'Cocoon: small transformations', these pieces reflect Fleek's interpretation of the natural forms in and around us all. Wearing and viewing this work activates our inseparable connections to our shared surroundings.
Fleek's latest series, 'Cocoon: small transformations' embraces this time of isolation, and how we look again at our unique realities: how to hold the heart in the absence of physical interactions —we have been called to look again at how and where we place our energies and focus in our lives, shifting the lens to smaller joys.





Kelly Fleek is a multi-disciplinary artist and member of the Seattle based electro-rock band The Spider Ferns. She is also the maven behind Lo Flux Media PR in Seattle. Fleek's work has been featured with Vogue Knitting Live, Buzzfeed, LUSIO festival, Kollabora Magazine (NYC), Stackedd Magazine, The Seattle Times, Three Imaginary Girls, Respect My Region, Whatcom Art Museum, PASTE magazine, and more...